Looking to incorporate some of the new year's most anticipated trends in the stationery for your big day? Use this 2019 wedding invitation trends report to guide you.
Wedding stationery may not seem as important as things like decor and dessert, but trust us, it is. We've rounded up the top 2019 wedding invitation trends to help you pretty up your paper goods, so that they're just as gorgeous as all the other details of your celebration. Remember, you don't have to stop after you've designed your invites - these trends can be worked into your menus, place cards, and all your signage, too!
Here is your 2019 wedding invitation trends report.
OTT envelopes
Let's start with packaging! We love the idea of adding patterned envelope liners - a piece of paper that sits between the envelope and enclosure cards - to your invitations. instead of going with an OTT sleeve, save the surprise for inside, like a Kinder egg. Now, you don't have to be extra when it comes to your envelopes, but choosing unique packaging is a surefire way to show your guests just how committed you are to making every detail of your big day amazing (and is very on-trend for 2019).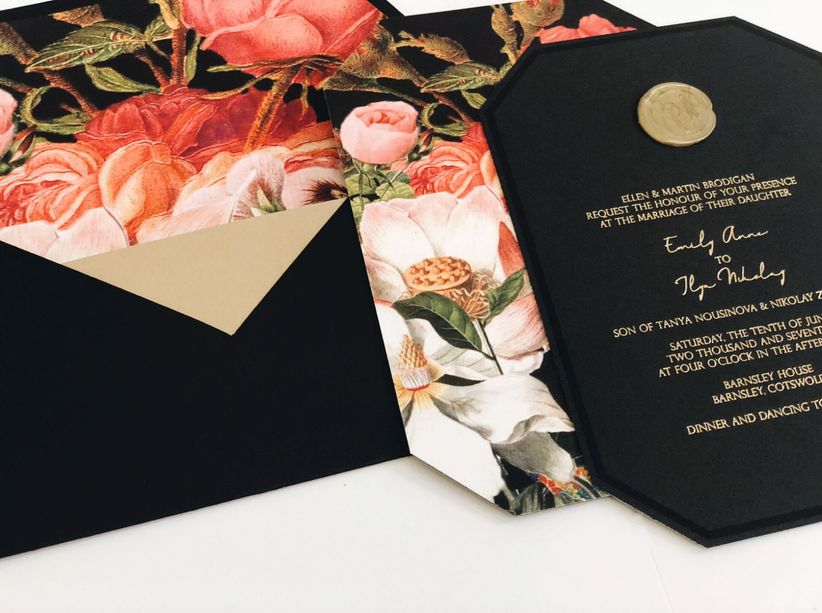 Hand-illustrated
Another 2019 wedding invitation trend we're anticipating is the commissioning of illustrations. This could be an original illustration of your venue, you and your partner or hand-painted elements that capture the essence of your wedding style. The illustrations can also be used for wedding menus cards, signage for you wedding dessert table and even wall murals for a cohesive and creative look.
Dark and dreamy enclosures
Now, before you start hashing out fine details like text and graphics, you need to figure out what they'll be printed on. One big 2019 wedding invitation trend is skipping the light and bright colours and choosing darker, sleeker enclosure cards. Jewel tones, black and grey are going to be big this upcoming year and are guaranteed to give your invitations a touch of elegance.
Geometric graphics
Planning a modern wedding complete with geometric decor? Well, you might want to work the style into your wedding invitations, too. Go ahead and add a geometric border or a few bold shapes to your stationery to make it pop. If you really want to go that extra mile with the trend, go with triangle or hexagon-shaped enclosure cards instead of standard rectangles.
Wreaths and floral hoops
Speaking of borders, if you're looking for something a little more detailed and dramatic, surround your wedding invitation text with a floral hoop or wreath. This 2019 wedding invitation trend is a perfect fit if you're planning a garden wedding or want beautiful blooms and greenery to be the highlight of your big day.
Mixing metals
One popular 2019 wedding trend that can be worked into just about any stationery style is mixed metals. Of course, you'll want to involve a bit of copper - it is the metallic of the moment - but you may want to add dashes of yellow gold, rose gold and platinum shades, as well. Need help deciding on your design? You can use them in your border, to outline or fill in your graphics or to colour your text.
Plant life
Tropical plants and houseplants are expected to be embraced by gardeners, millennials and everyone in between for wedding invitations in 2019. You can use them to jazz up your wedding invitation inserts or, if you want to double down and incorporate multiple wedding trends, you can pretty up your envelope liners with pics or paintings of monstera, palms and more.
Find your wedding invitations and stationery on WeddingWire »